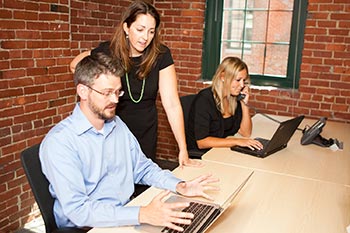 Employee engagement is about making your employees feel that they are appreciated and important members of the team. Your employees are the most valuable asset your company has. They are the life blood, ensuring that customers are taken care of and work gets done. They need to be part of the team and have a stake in the health of the company.
Employee engagement programs create the right conditions for all members of an organization to give of their best each day. Employees are  committed to the business' goals and values, and motivated to contribute to the team's success.
Employee engagement is based on trust, integrity, two way commitment and communication between a business and its employees. It is an approach that increases the chances of business success, contributing to enhanced performance, productivity and well-being. Employees work harder because they feel that they are an integral part of the business. Their opinions are listened to and when the business benefits so do they.
If employees are not happy, your customers are not happy. Unless your employees are engaged, they will not put their best foot forward. Customers do not receive the same level of care when employees are not engaged. This affects the customer's perception of your business and ultimately your bottom line. An engaged employee cares about the health of the business because they feel they have a stake in it beyond a paycheck. When employees are engaged, they excel in the good times and pitch in to help the company get through the bad times.
The Modern Observer Group creates employee engagement programs to keep employees happy, productive, and part of the team for the long haul.
Employee Engagement programs can include:
Incentive programs
Executive coaching
Operations plans to simplify tasks and increase productivity
Social media
Employee communications
and more.