By Maria Grove
Founder, Bliss This House LLC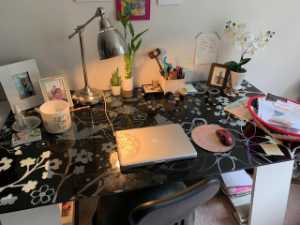 With most people still working from home the topic of organizing your workspace is a hot one right now. I'd like to offer some tips for organizing your workspace that would work both at home and at the office (if we ever go back).
First be honest with yourself – do you find yourself camped out at the kitchen table doing zoom calls while your kids make lunch in the background? Sure the kitchen table is convenient but would you have more privacy in a guest room or bedroom? Thinking about where to set up your space is just as important as the set up of the desk and systems themselves. I'll be honest, my husband and I share an office in my home. We have a lovely partner's desk, which we created by putting two desks facing each other. This set up has worked for 10 years in our home and looks great. But then Covid struck and I was out in the kitchen doing my work while he took over the office. A few months into it I took matters into my own hands and set up a space for myself in the upstairs playroom. Much more privacy for client calls and a little more elbow room. Where is the best place for your desk – with natural light and a good set up? Thinking about how you've been working from home these last few months might guide you to make a change.
Next lets think about systems. We all have paper. I'm a piler. Client docs and family bills and kid's art all gets stacked on my desk and then I don't know what I have. If working from home and your home life is starting to mix with your work life, consider a two- tiered bin. The top is work documents and the bottom is for home. You'll spend less time looking for what you need. I also recommend something called the Sunday Basket. I got a great basket and put all my loose papers in there – things that need to be done, receipts, recipes I've pulled out of magazines. Then my goal is to look the pile every Sunday and clean out the basket. It is a system that helps you contain the clutter and gives you accountability for actually dong something with it in a specific time frame – Sunday! I have a Sunday Basket at home and in my office (I just call it my Friday Basket).
Next think about what's on your desk. Studies have shown that having a plant on your desk increases productivity by 15% – that's a lot in a year. You should consider having a plant! Also are your pens, dry erase markers and highlighters all in one container? I would separate them if possible. Get an accessories organizer with three bins so you don't have to search for what you are looking for. Also – can you relocate paper clips and the stapler to a drawer (in a container of course!)? Don't have so much clutter on your desk. Your eye should be able to rest when you pause for a moment from your work.
For more information about desk systems to simplify your life, follow me on Facebook where I post tips and tricks and inspiration –Facebook.com/BlissThisHouseCT.  If you are interested in hiring to work on your desk and other papers in your home, I can be reached at www.blissthishousect.com.  
To find out how a Modern Observer Group coach can help you in your business, click here to set up a complimentary call.