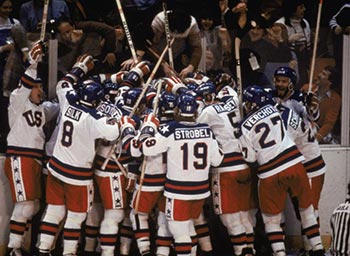 To this day, few Olympic moments can match the excitement generated by the 1980 U.S. Hockey Team.  A group of college kids was out up against the juggernaut Russian team who had not only beaten them prior to the Olympics, but also beat the NHL All-Stars. The Russians had years of experience where the U.S. team worked together for a few months. In one of the biggest upsets in sports, the U.S. team inspired a country that desperately needed it. There story includes several lessons that we can all learn.
Work As A Team: When the athletes started, they identified themselves as being from their various colleges, several of which had rivalries. They didn't start to gel until they started thinking of themselves as Team USA instead of a group of individuals.
Make The Effort: Coach Herb Brooks worked the team to the point of exhaustion. The team had limited time and limited resources, especially when compared to the Russian team. They made up for it through sheer will and hard work.
Don't Fear The Opponent: One of the mistakes most of the Russian teams opponents made was assuming the Russians couldn't be defeated. If you believe you can't win, you won't. While it is important to show the proper respect for your rivals abilities, overestimating them can be just as dangerous as underestimating them.
Don't Lose Sight Of The Finish: While the victory over the Russians was a major accomplishment, it wasn't the main goal. The victory moved Team USA into contention for the gold medal, but if they had coasted after beating the Russians it was still possible for them to walk away without a medal. Keep the finish line in sight and don't stop until you get there.