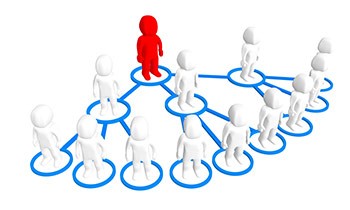 If you have been to a networking event, you have probably seen Joe Businesscard. Joe runs around the event giving out his card and collecting as many as possible. He's playing a numbers game. Getting in front of as many people as possible, without actually getting to know anyone or interacting with them.
At a networking event I was at a financial advisor came with a friend of his. Instead of talking to people at the cocktail hour that preceded the event, he spoke with his friend. When the event started, he decided to leave, telling people there weren't enough people for him. Had he stayed, he would have learned that two of the attendees were venture capitalists and two others were on corporate boards of directors. These were exactly the people who he wanted to meet, but because he was playing a numbers game, he missed connecting with them.
Networking is about getting to know people. You're not looking to sell them. By creating relationships, you're not just networking with the people in the room. You're networking with everyone they know, and everyone they know. To succeed at networking, stop playing the numbers game.
For more information on how a Modern Observer coach/consultant can help you contact us here