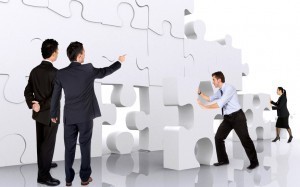 The key to your success doesn't lie in any one thing. It relies on all the elements of your business working together in harmony. When you make a change in one part of your business, it affects the other parts. If something isn't working properly, your entire business can become shaky. Whether you're starting from the ground up or trying to fix a problem that is holding you back, the right consultant can get you over the hard part and on your way to success.
The Modern Observer Group Business Consulting programs take a holistic look at your business and examine all the parts to make sure they function together.
To make your business work seamlessly, Your customized program can include the following:
Strategic Planning
You wouldn't build a house without a plan. Why would you build a business without one? The Modern Observer Group will work with you to create your business plan, research competitors, create marketing strategies and build an organization that can stand the test of time. Whether you are bootstrapping your business, looking for funding, or trying to figure out where to go next our business planning services will provide you with a realistic, actionable plan that will take you from start-up to success.
We will help you create a plan that includes:
Executive Summary
Market Analysis
Company Description
Organization and Management
Service and/or Product Line
Operations
The key to unlocking the value in your business is streamlining operations. The ability to have any member of your team perform a task correctly and consistently is the cornerstone of creating an efficient organization and an outstanding customer experience. This requires developing and documenting processes.  Without these operations, you are stuck. You can't go on vacation, sell the business, or leave others to continue the work. Not having documented operations procedures limits the value of your business.
To unlock the value of your organization The Modern Observer Group:
Develops repeatable processes
Creates operations manuals
Trains employees to implement processes
Improves existing processes
and more
Marketing and Communications
Designed for small and medium sized businesses to attract and engage customers. Services include:
Social/Local Marketing: We set up local directory sites and business and personal social media profiles as applicable including: about us info, directions, hours, links to website and vendor sites, photos, and more. We manage your profiles and keep them active by providing 3-4 postings per social site, per week of curated, relevant content from multiple sources, accepting likes and followers, responding to basic inquiries and reviews, and ensuring the pages remain up-to-date. Product or specific questions are sent to the client. Directory sites are monitored weekly to ensure posting of positive reviews and handle any negative reviews if they appear. These listings serve to boost your SEO and make it simple for potential customers to find you in search engines and on mobile platforms. Profiles and updates are created on Facebook, LinkedIn, Twitter, Google+, Foursquare, Pinterest, YouTube (if applicable), Slideshare (if applicable) and up to 40 sites.
E-mail: We design and produce a weekly or biweekly e-mail newsletter to send to customers and integrate it with social media to grow your e-mail list.
Groups: We identify Facebook and LinkedIn groups that you should participate in and post on your behalf in group discussions, either creating a discussion or responding to a discussion, on Facebook and LinkedIn 6-8 times a month.
Blog: We will set up a blog for you and post content (original and curated) 1-3 times per week.
Employee Engagement
Your employees are the most valuable asset your company has. They are the life blood, ensuring that customers are taken care of and work gets done. They need to be part of the team and have a stake in the health of the company. The Modern Observer Group creates employee engagement programs to keep employees happy, productive, and part of the team for the long haul.
Employee Engagement programs can include:
Incentive programs
Executive coaching
Operations plans to simplify tasks and increase productivity
Social media
Employee communications
and more.
Crisis Management
When a crisis hits, most companies hire a public relations company to handle the backlash. We delve into the company to fix the problem and ensure it does not reoccur. Combining operational and strategic knowledge, we come in and get your company past to crisis to the next level of success.