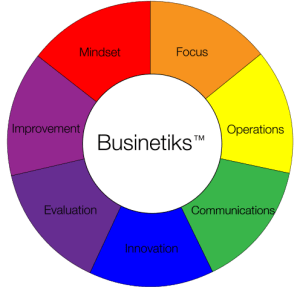 Our job at the Modern Observer Group is to help you succeed in your life, your career, and your business. To do this we combine individual coaching, mastermind groups, and professional services to help you reach your business and career goals, create a more fulfilling life at work and home, and push you past what you thought you wanted to achieve the things you never thought you could.
Our philosophy
The Modern Observer Group is based on our proprietary Businetiks™ system. This holistic approach was created on the idea that every action has consequences, not just to the project but to the person. Our holistic approach anticipates and helps our clients through both the difficulties that any plan may encounter and the unintended consequences that can follow.
Understanding the Businetiks Holistic Approach
Businetiks is a unique program that helps individuals integrate skills, processes and state-of-mind to meet their goals and achieve superior results. It brings together and addresses the 'mechanics' of running a business or organization plus the 'human' aspects such as mindset and customer relations. The Businetiks system encompasses seven key elements that, when woven together, result in a complete model for success:
Mindset
Focus
Operations
Communications
Innovation
Evaluation
Improvement
Who is Businetiks designed for?
Individuals, business owners, entrepreneurs, executives, managers, and businesses. This holistic program is customizable and scalable to address the needs of start-up and existing businesses and organizations of any size or type. Businetiks addresses how the parts of a business/organization fit together and run, how they can be improved, and how they affect customers, employees, and stakeholders. Common themes flow throughout the Businetiks process – the value of different points of view, the link between attitudes and the success of the organization, the need to engage various target audiences and how to effectively communicate with them, and the necessity of continuous improvement. Discussions of key metrics will help people track financial results, customer trends, employee reactions, process efficiencies, and/or other measures critical to the business.
To find out more or to talk with a coach/consultant contact The Modern Observer Group here.