Using a daily planner is absolutely essential to managing your time well and organizing your life. Juggling work, deadlines, bills, and more can be overwhelming. Trying to keep track of all of the demands in your life and work in your head causes stress and impairs your ability to get things done. To boost your mindset, increase your efficiency, and accomplish your goals you need a system to track and schedule what goes on in your life.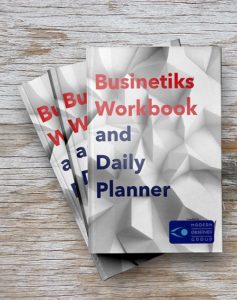 Designed to start when you do, as opposed to only starting on January 1, we created this daily planner for our Businetiks coaching clients. Now it is available to anyone. The daily planner is designed to help you develop and maintain a positive mindset, create and track goals, and learn more about how you work in addition to keeping you on schedule.
The planner includes tools to increase your productivity:
To Do List: list tasks and check them off when accomplished
Daily Calendar: Keep track of where you need to be and use it to record what you do to learn more about how you work
Energy Tracker: Track how your body works so you can schedule important tasks at times of peak proficiency.
Productivity Tracker: Check your daily tasks against your goals so you can use your time more efficiently
Tools to boost your mindset:
Daily Inspirational Quotes: Keep yourself motivated
Gratitude Journal: Track what you are grateful for to build a positive mindset
Accomplishment Journal: Record your accomplishments as reminders of your strengths
Tools to achieve goals:
Goal Setting Worksheet: Set your overarching goals that you want to accomplish
Daily Sprint Goal Journal: Break your goals down into smaller pieces to accomplish them more easily and stay motivated.
With coaching exercises each moth as well as your daily worksheet, the Businetiks Daily Planner gets you on the right track and keeps you there all year long.
Price: $29.99