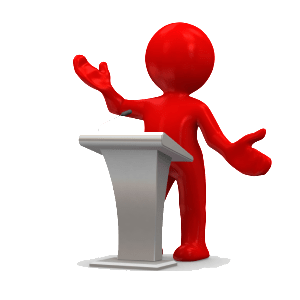 When you're in front of an audience, you want to project confidence. But when you're nervous, your hands often flit about and fidget. Use one of these positions to keep your hands still. Practice in front of a mirror, then with friends, until it feels natural.
Hold the ball. Gesture as if you are holding a basketball between your hands. This movement, a Steve Jobs favorite, displays confidence and control, as if you have the facts at your fingertips.
Palms up. Turning your hands up indicates openness and honesty, and it shows that you're willing to connect with the people you're speaking to, whether it's one person or a crowd of thousands.
Pyramid. Keep your hands still by clasping them together in a relaxed pyramid. Beware of overusing this position or pairing it with domineering or arrogant facial expressions. The idea is to show that you're relaxed, not smug.