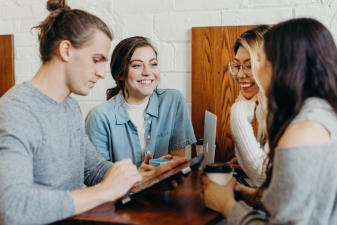 Your employees are on the front lines when it comes to dealing with customers. They are the face, the heart and the soul of your company. Whether you have one employee or hundreds, employee engagement is the key to your success. When employees are engaged they do a better job making your customers feel engaged. They work more efficiently. In some cases, they can literally save the company.
A great example is Gravity Payments. Gravity Payments, a credit card processing company, made national news when its CEO Dan Price announced he was raising the minimum salary at his company to $70,000 and reducing his salary to $70,000. Since making the move, revenues at the company tripled and employee productivity skyrocketed. It was more than simply paying more. Employees felt they were part of an organization that cared about them and their well-being. That shift in employee attitude fueled the company's growth. It also saved the company.
As the COVID lockdowns hit, Gravity's revenues plummeted. Given that their customers were in bad shape as well, raising prices was not an option. They considered layoffs and looked at the possibility that they would have to close their doors. Their employees came to the rescue. They volunteered to cut their salaries for the duration of the crisis. Some employees even volunteered to forgo their salary to keep the company afloat.
Taking care of your employees is good for your bottom line, good for your customers, and good for your business. When employees feel connected to the business, they treat it like it was their own. Employee engagement programs reduce turnover, increase productivity and build the business, making the foundation strong. Employee engagement programs can include assessments, coaching, benefit packages and other functions to make your employees comfortable, happy and excited about the workplace.
To find out how The Modern Observer Group can help engage your workforce, schedule a call here.